"Ground-breaking Research Saved My Son"
Carolyn Wright shares her son Jenson's cancer story.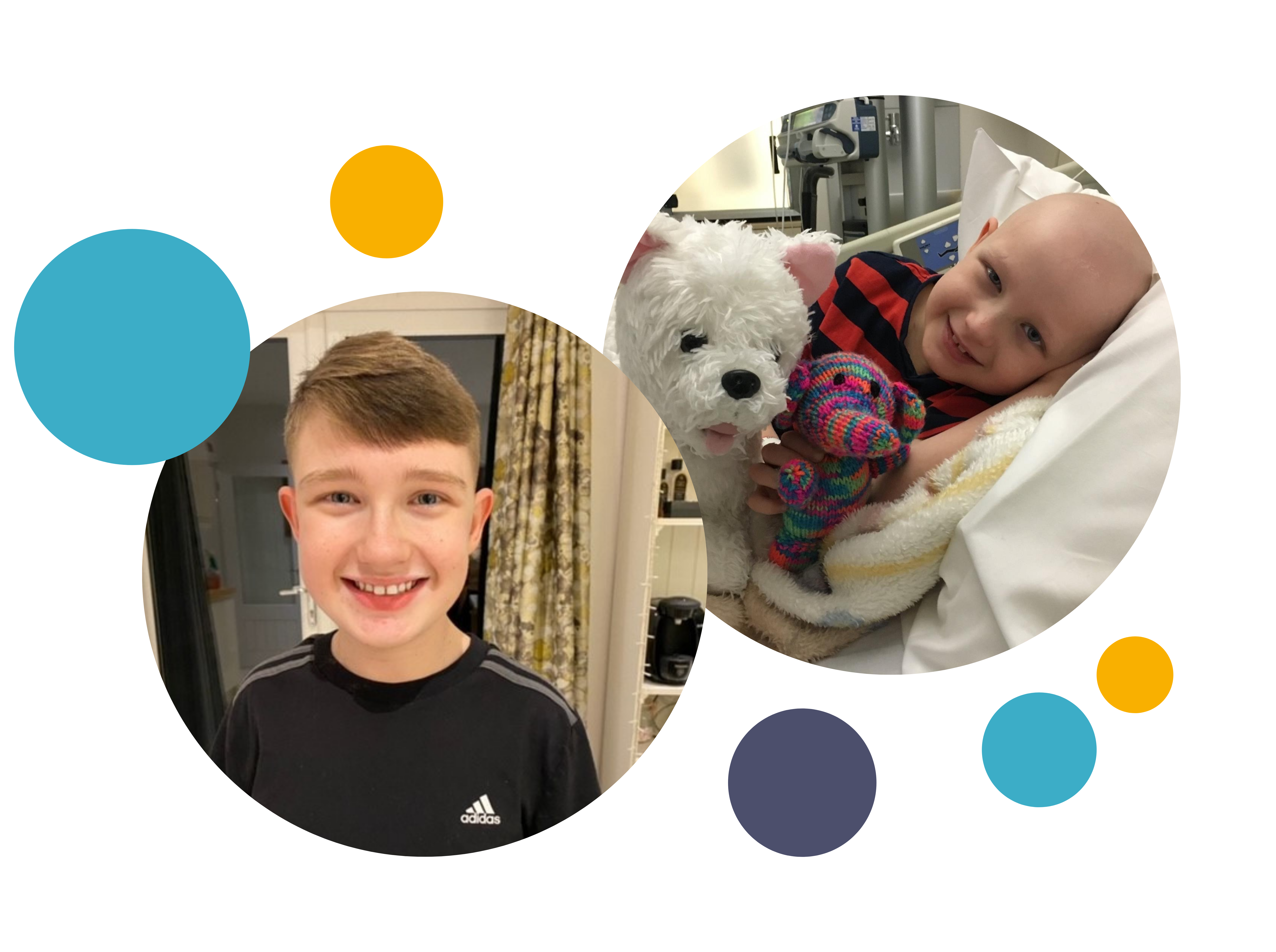 Our story started in November 2013 when at just 4 years old, my son Jenson,
was diagnosed with Lymphoma and Leukaemia.
He was so young and it was so unfair. Jenson had just started school and was just
like any other 4 year old, getting into mischief and loving life. He loved superheroes
and liked to play outside too.
Our world fell apart overnight.
After the diagnosis, we quickly got into a routine of what seemed like a lifetime of hospital visits for chemotherapy, including countless trips to the operating theatre to put the drugs directly into his spinal fluid. Jenson was now 5 years old and having to deal with lots of needles, overnight stays in hospitals, infections, chickenpox, numerous late night trips to A&E because he had a temperature - and too many hospital appointments to even count.
Finally, after two and a half years, he was in remission and the nightmare had ended. Or so we thought…
Just six short weeks later, at a routine appointment in July 2016, his consultant confirmed Jenson had Acute Lymphoblastic Leukaemia - an adult form of Leukaemia. Our world fell apart once again and the battle restarted.
Jenson had to go through two massive rounds of chemotherapy at Alder Hey Children's Hospital but unfortunately this didn't work. The last words we remember coming out of his oncologist's mouth was that Jenson was 80% diseased and unless they found a bone marrow donor he wouldn't make it. At that point he was transferred to Royal Manchester Children's Hospital under the care of Professor Rob Wynn.
This is when the search began. His elder brother Lewis was not a match. However Professor Wynn explained that in cases of Refractory Acute Myeloid Leukaemia (where the patient is still diseased and chemotherapy had not worked) research had shown success in clearing the disease by performing a ground-breaking umbilical cord stem cell transplant. We decided to try it - we had nothing to lose.
It was our last chance. 
After what seemed liked weeks of waiting, a match was found in Texas USA and an unknown baby's umbilical cord was flown to Manchester, where the life-saving treatment could begin. Once the cord was received the scientists withdrew 21mls of pure stem cells from it which would be given to Jenson. 
On 21st December 2016 and three years after his initial journey began, Jenson had his stem cell transplant in the Bone Marrow Unit of Manchester Children's hospital. Another mother had given my son his life back.
Two years after this lifesaving treatment, Jenson was given the all clear and discharged from hospital. He now has an annual check-up and remains a fit and healthy teenager. He is our hero. He has faced cancer twice and won the battle each time. His future now looks bright and he is the biggest superhero we know.
Our story only has a happy ending because of the amazing treatments being developed thanks to research.
So please support this wonderful charity who work tirelessly to find kinder and more effective treatments to ensure more people can beat cancer.

Your support will mean that more families can have a happy ending too.